Interviews can go either way, you can end up getting more or less what you expected from your prepared questions while on numerous occasions a relatively simple question can take you on a journey that is a story in itself.
In August 2009, I was going to interview Florencio Aguilera and his son Chencho but with the papers (Costa de la Luz Resident) tight deadline and the hugely successful Aguilera exhibition in Ayamonte the opportunity passed. However as a very good friend of mine says "What was meant for you, won't go past you" and I hope you the reader enjoy this interview as I certainly did.
For those of you unfamiliar with Ayamonte, the Florencio Aguilera studio is in Plaza de San Francisco and it is part of the building that is the Marques de Ayamonte Palace. It was here I met two generations of the Aguilera family both painters on a cloudy January afternoon in 2010.
The palace is enormous with an internal patio that I had heard about but never actually visited until this interview and it was Chencho, Florencio's second son, who gave me a guided tour of what will be the an exhibition area which will be opened to the public from July to September. The exhibition will be of three generations of the Aguilera family: Rafael Aguilera, Florencio Aguilera and Chencho effectively capturing the history of Ayamonte and surrounds from 1903 to present day.
Chencho Aguilera at 34 is the third generation of painters in the Aguilera family and he is the first to sit down in front of the log fire to answer my questions.
M: Thank you for inviting us to your home and studio, I have to say I am amazed at the amount of art and space you have here. Can I ask you when you painted your first painting?
C: I was about four and painted it along with my father in this very house.
M: I notice you say house, both your father and you have your studios here, what was it like growing up having a famous artist as a dad and living in this huge house?

M: Fantastic, I am lucky to have the support of my family and to be able to paint my style of paintings which are very different from my father's. My father has taught me a lot and I also studied Bella Artes in Seville. I paint imaginative art and my father paints figurative abstract art so we are very different in our styles which is good as you can't really compare.
M: There must be some similarities?
C: We are quite different in lots of things, I am anti-taurino but my dad was a bullfighter in charity bull fights and still loves bullfighting. I love alternative rock like Sound Garden and Ben Harper while my dad likes classical music. Having said that, we both need to have music playing to paint.
M: I also heard that you have painted some surfboards and also saw a video of you on youtube making your very own, so you are a surfer in your free time?
C: The surfboards is also a type of painting I like, using an airbrush to create unique surfboards. As for making my own surfboard it was actually a kitesurfing board that I helped with and painted.
M: More kitesurfing in Ayamonte than surfing, I did notice that you signed the board as "Niño Tiburon" baby shark, what is that about?
C: Yes, for the art I do on surfboard and kitesurfboards I go under that name.
M: So Chencho are you more at home on the beach or painting in your studio?
C: Ideal situation would be painting on the beach with the surfboard at hand whenever I need it.
M: You have painted the poster for Ayamonte's 2010 Carnival, how did that come about?
C: The Ayamonte town hall Cultural department were at the exhibition we had in August 2009 and I think what they saw there led them to commission me for the poster.
M: It is difficult to become an artist or should I say make a living painting?
C: Like I said, I was lucky to have the support and materials around me from a very early age but I think if you are sincere, honest and dedicated to your art, you will succeed. It is very risky to dedicate all your time and future to painting but if you have a group of people who appreciate what you do and you can project your emotions from a painting to the person who is looking at that painting you have a very good chance at succeeding.
M: Thank you Chencho, I look forward to seeing your next exhibition.
C: A pleasure and I look forward to seeing you and your readers at the exhibition.
Florencio Aguilera walks into the room and asks permission to light up a cigar during the interview. To which I say if a man in his own home can't smoke a cigar in peace we are in trouble.
M: I can't help but notice all the paintings you have of bulls, bullfighters and bull rings and even your cigar would fit into an evening of bullfighting.
F: I have a few passions in life, art, music and bullfighting. I took part in 15 charity bullfights myself and I think to paint anything belonging to this art you must have hands on experience.
M: Did you ever get caught by the bull?
F: Of course, broken bones and dislocated shoulders were the marks they left behind but the experience of putting yourself in front of a bull is a singular experience.
M: This year you will celebrate 50 years as an artist with the biggest exhibition ever, tell me something about it.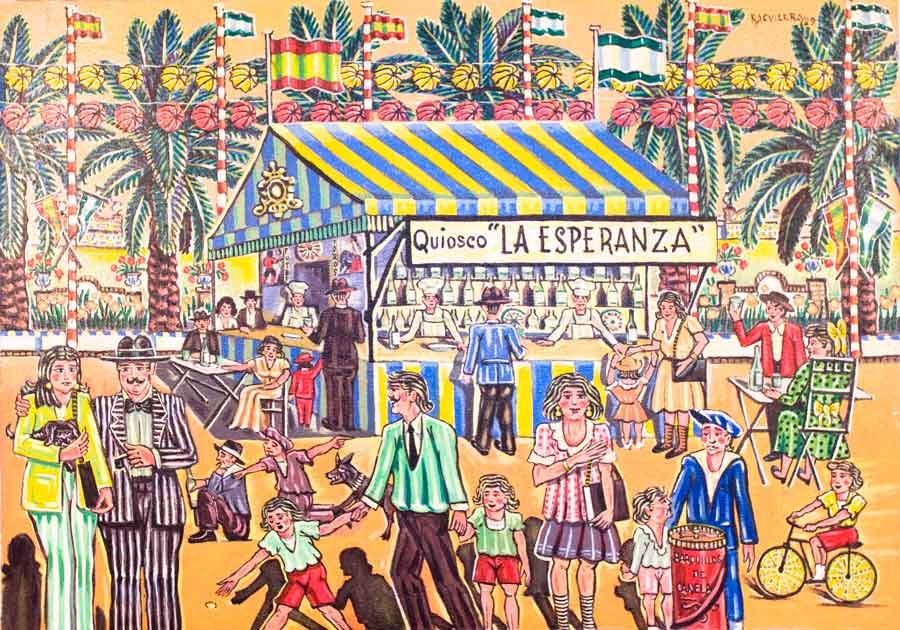 F: My father Rafael was the first painter in my family and although painting was not his only source of income, he painted numerous works of art. My son Chencho now has a formidable amount of art and what better way to celebrate 50 years as an artist's surrounded by family.
M: Your father Rafael was more prolific in his later years.
F: My dad at 80 said that he was going to start painting seriously and he continued for 15 more years painting what I would say is the history of Ayamonte as he saw it in the 20th century. I even have his last unfinished painting that he started days before his death in 1998 at the age of 95.
M: You are a self-taught and you have done very well if you don't mind me saying.
F: Yes, but studies and a career are important and I say this to Chencho.
M: I can see you are very proud of your father and indeed your son Chencho but I have got to ask who the best painter is.
F: Do you know what, I think my son and my dad are better painters than me.
M: I know you are a great lover of music and the international music festival had your patio as one of the venues in 2003. Unluckily for me I missed the concerts but will you open up the Palace and patio again to concerts?
F: Music is above everything and I think you can live all the good things in life through music. As for the concerts, they return again this year and all I can say at this stage is that there will be at least 2 concerts held here. It will be something really special.
M: You have numerous paintings of places all over Europe and many are landscapes here in Ayamonte, some in Tavira others up along the Guadiana river. Do you have any place that stands out for you in particular?
F: There are places that are special at times and right now I spend a lot of time in Pulo do Lobo, in Portugal where there is a waterfall on the Guadiana, I do a lot of painting up there and to be honest I like painting along the Algarve coast.
M: When I first arrived in this area of Costa de la Luz, I couldn't help noticing that landscapes looked clearer or brighter, do you think the light is special here.

F: Ayamonte is where I was born and I was lucky to have this special type of light to paint but the soul of an artist will always adapt to their circumstances and surroundings when they paint.
M: You have travelled a lot over the years has this helped in your painting?
F: I love that there is different atmospheres in different areas and I adapt relatively quickly to the cities I visit. Different cultures, different music and a different atmosphere they are all an education.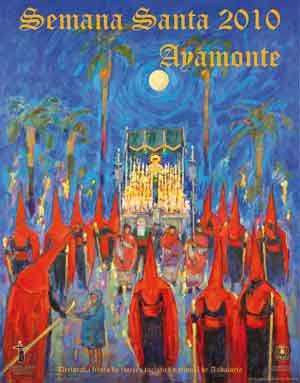 M: You are also painting the Poster for Ayamonte's Easter week (2010).
F: Yes, my father was the founding member of the brotherhood Sangrado Lanzado en 1918 and this year (2010) it is their turn to paint the poster so I offered to do it.
M: So Easter week is a special time for you?
F: Semana Santa has its own beauty, the costaleros, the thrones so it is a special time.
M: Thank you for taking some time out to speak to Infoayamonte.
F: You are welcome and I invite all your readers to visit our next exhibition.