Completed in 1889 and originally owned by the British Zafra-Huelva Railway Company, the 185-kilometre Huelva to Zafra railway, with its 19 bridges and 18 tunnels, provides passengers with an enchanting ride through Huelva province's spectacularly changing panorama as well as a brush with its history.
Skirting the Odiel Salt Marshes natural park, the train passes Gibraleón's traditional-style Our Lady of the Olive cooperative building, founded more than 60 years ago. In late spring or early summer, meadows of ripening sunflowers or young cereal plants slip by and a snaking climb into the mountains begins. The River Odiel soon appears a long way below the first viaduct encountered.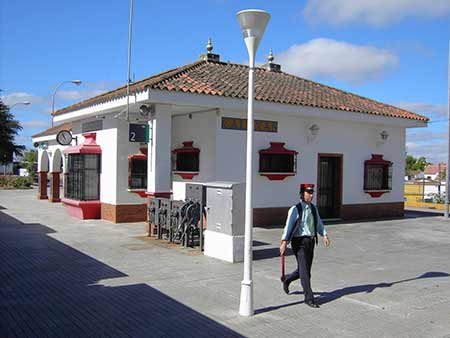 Occasionally slowing to around 20 kilometres an hour, the train dips in and out of sheer-sided cuttings of black slate and multicoloured rock or emerges from gloomy tunnels into bursts of sunlight. It passes through boulder-littered barren stretches of ground and a hilly terrain thickly covered in thyme and cistus scrub. After the winter rains there is a sometimes-dense scattering of purple, yellow, pink, and white rockrose shrubs, scarlet poppies and other wild flowers. Networks of trails zigzag through the hills and goatherds scamper over the railway track.
The landscape is interspersed with mixed forest or plantations of eucalyptus, harvested for paper pulp, and coniferous trees used as timber. Orange groves, olive trees and hill terraces give way to gentler, rolling hills and valleys of mixed pasture and woodland dominated by holm oak. There are grazing sheep and cattle and, with luck, deer can be sighted breaking cover or an eagle may glide into view. Other birds, too swift to identify, vanish in scintillating explosions of colour.
Ragged silhouettes of distant mountains and skeletal outlines of villages riding on gentle swells of ground materialize then disappear. Isolated farmhouses are glimpsed as bright flashes behind cypress and other garden trees while fleeting white villages gleam in a world splashed with the sombre grey of derelict stone farm buildings and ubiquitous stonewalls.
Passing through Los Milanos, the strikingly prominent dome and tower of Calañas's 16th-17th century parish church of Santa Maria de Gracia can be seen through the carriage window. It is said that Roderick, the last king of the Visigoths killed in battle with the invading Moors in 711, is buried in Sotiel Coronado, just eight kilometres away.
Although the railway was designed for public use, for some small mining concerns it was the only means of transporting their ore, so they built branch lines connecting with it at the next two stations of El Tamujoso and Valdelamusa. The mines have long since been abandoned and the branch lines dismantled but there are crumbling reminders of those industrially active days. However, the nearby Aguas Teñidas mine has been re-opened and the first copper concentrates recovered in May this year. Valdelamusa may therefore again become a dynamic mining terminal.
Before entering Jubago-Gararoza black Iberian pigs, from which the famed mountain-cured ham (jamón serrano) is produced, can be seen feeding on holm oak acorns, their main diet. The streets on either side of the station are lined with sausage and ham factories or retail outlets as the very best jamón serrano is considered to come from Jubago.
On approaching Cumbres Mayores, its 13th -14th century castle, standing out darkly against the red-tiled roof and white-walled houses abutting it, can be seen in the distance. It was constructed along with others including the one at Fregenal de la Sierra, after the expulsion of the Moors, as a defence against military incursions by the Portuguese.
Fregenal de la Sierra is the first stop after crossing into Extremadura's Badajoz province. At present, due to engineering works, and on Sunday's only, there is an approximate two-hour interval before the return journey from Fregenal to Huelva. This allows time for a visit to the pretty and historic village. The bullring inside the ramparts of the 13th century castle presents an intriguing configuration and the evocative ruins of the 17th century Jesuits College stirs the imagination.
With just a sprinkling of passengers and a low volume of commercial traffic, the railway faced possible closure. But in 2006, when I undertook the journey, a major upgrading plan to rescue what is regarded by some travel-writers as one of the most beautiful railway journeys in Europe was approved and has since been completed.