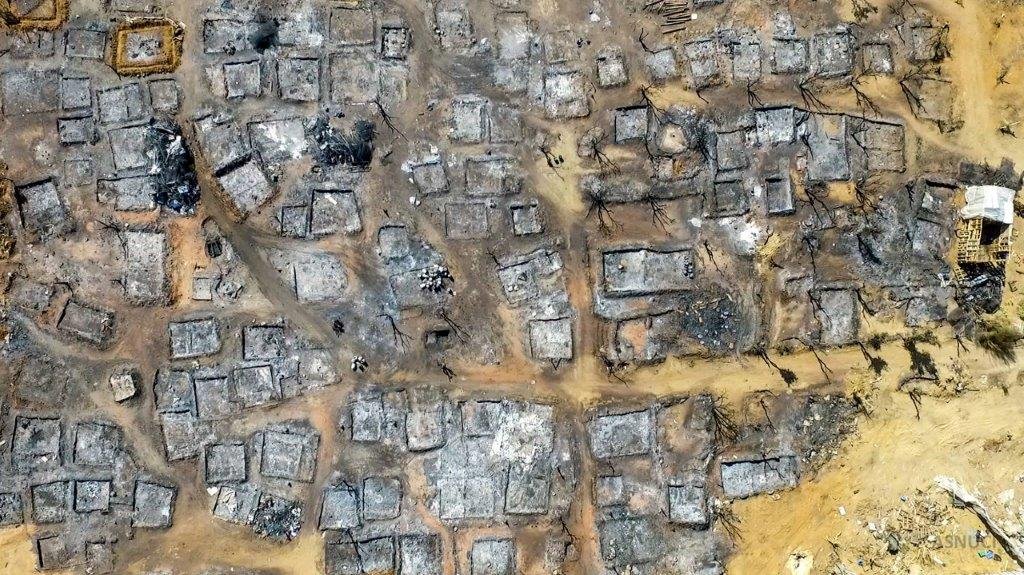 A week ago today I was driving back from the salt flats near Isla Cristina and I saw black smoke rising over the hills towards Lepe. When you see that black plume you know it is not a wood or grass burning and just hope it's not someone's house or even worse that someone is in that house. I didn't hear of any casualties during the evening but then I heard it was one of these provisional camps that was burnt to the ground. No one was hurt as the fire took place in the afternoon just before 1 pm.
There are a number of these camps dotted around the province where fruit workers with almost nothing to their name, live near the strawberry fields they work in, to be able to save as much money so they can to send it back to their families. And last Friday many of these workers lost everything. I mean everything, clothes,money and even their passports. The conditions they live in means they have cats and dogs in their camps to control pests. Sadly some of their pets didn't survive the fire, which spread quickly.
The firemen for Ayamonte, Punta Unbria and San Juan del Puerto officially got the fire under control by 2.30pm and declared it extinguished at 530pm that same afternoon but as you can see from the photo above there wasn't much left.
These workers are not here looking to get hand outs, they are here to work and send all of their money home to their families. They do work many of us would prefer not to do, the back breaking type of work that really doesn't pay a whole lot.
An association called ASNUCI, a non-profit organisation with its base in Lepe works closely with the people in these camps offering them defence and protection of their human rights, food and clothing, helping with integration, giving courses in first aid, health and safety in the workplace and teaching them to read and write in Spanish. They also help with translators at doctors and local hospitals. The majority of the people in the camps are from Sub-Saharan regions of Africa.
They have opened an account where you can donate, it doesn't matter the amount and a little gesture can go a long way. Right now they have nothing so anything you can give will be appreciated
Transfers to the following: ASNUCI
Bank Details:
IBAN: ES53 3187 0098 4933 7537 3317 (Caja Rural del Sur)
Concept: Help Lepe Fire
(Please add your name so they can thank you.)